The Units Discography
Click on the song titles to go to the lyrics for said song, click on the image to make it bigger, click on "Details" to see copyright information and various facts about the record and click on "Advertisments / Reviews" to see advertisements for and reviews of the record.
---
High Pressure Days


A1. High pressure days
A2. Cannibals
B1. Work
B2. Cowboy

7", 8-9-79, SR-20-630.

Details
Advertisements / Reviews

---
Warm moving bodies


A1: Warm moving bodies
B1: I-night

7", 3-3-80, SR-16-778


Details
Ads and Reviews

---
UNITS


A1. High pressure days
A2. Work
A3. Cowboy (Long intro)
B1: I-night
B2: Warm moving bodies
B3. Cannibals

12", 1979?

Note: Thanks to Wes Holley for the information on this EP.
Very little is yet known about it.


---
Digital stimulation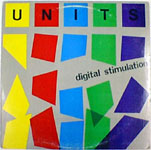 1. High Pressure Days
2. Digital Stimulation
3. Warm Moving Bodies
4. Go
5. Mission
6. Cannibals
7. Bugboy
8. Tight Fit
9. Passion or Patterns
10. Town by the River
11. Cowboy

415 Records A-0003
LP, 10-10-80, PA-91-167


Details
Ads and Reviews

---
The Right Man
| | |
| --- | --- |
| | First Pressing |
| Second Pressing | Second Pressing |


A1: The Right Man 4:09
B1: The Right Mix 4:53

up rOAr records # Up 101
12", Late 1982


Details
Ads and Reviews

---
A Girl Like You


A1: A Girl Like You
B1: A Girl Like You, part 2

Epic 49-04030
12", 7-12-83, SR-50-520


Details
Ads and Reviews

---
New Way to Move


1. The Right Man.
2. A Girl Like You.
3. New Way to Move.
4. Your Face.
5. More Alike.
6. More More Alike.

Epic 5E 38992
EP, 10-7-83, SR-50-538


Details
Ads and Reviews

---