Flipside Magazine #6, ca. Jan 1978
Concert Reviews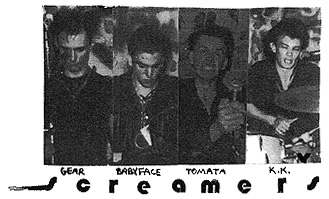 SCREAMERS/WEIRDOS/SKULLS
Slash Benefit, Masque Dec. 16
by POOCH

Arrived late and heard that the Skulls were good, but then that's nothing unusual.
The Weirdos, back after a short absence previewed some great new songs along with their familiar high-energy material. The pogoing was incredible and the Masque was crowded to the gills. The Screamers played last and it took me some time to get accustomed to them. They really came on strong towards the end though with Tomata in fine shape. I'd like to see these guys again if they would only perform more often. Highlights of the evening included a Dickies' picture-taking session and a fine Slash party after the concert.

WEIRDOS/SCREAMERS/BAGS/DEADBFATS/PLUGS
Dec. 17 Masque
by AL

P plugs are an alright punk type band, great singer with black lips - too bad nobody saw them.
Deadbeats are getting better, good in fact maybe I'm getting used to them.
Bags, with us again after a short departure. Douche Bag and Trash Bag, the originals, and Doggie, Biz, and Gag Bag the new comers. They did an energetic set, the standout songs being "Vile" and "Violence Girl". See the Bags today.
Screamers were very good, better than their old shows. More musical. Its true Tomata seems like a freaked out Mickey Rooney (Who ever said that?).
The Weirdos were great. They did "Life of Crime". So good you could explode and also "Teenage," and a new song, "I love the Sky Above You," which is a bit slower than the usual speed of light Weirdos hits.